Every month Google has been releasing Android's distribution numbers for us to see how many devices are actively used and which version of Android those devices are running. It gives us an idea of how many devices are immediately upgradable to the latest version of Android.
For some reason Google didn't release June's distribution numbers. In fact, the last time that Google released Android distribution stats was on May 7, which was 11 weeks ago.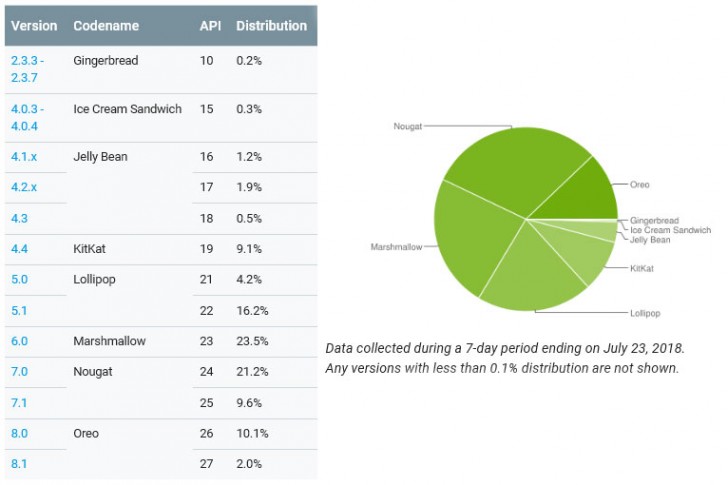 Android Oreo makes up 12.1% of the total Android distribution while Nougat is the version that makes up most of the Android devices in use: 30.8%. There are still more Android devices running Lollipop than Oreo at 20.4%.
The Android distri
bution numbers up to this point have outpaced Nougat's distribution in the same month of last year, though only slightly: 11.7% (vs Oreo's 12.1%). We've seen Google introduce new measures to lessen the gap between major smartphone updates, namely, Project Treble.
Unfortunately, it's still too soon for us to actually see the benefits of quicker updates since Project Treble is only required for OEMs launching devices with Oreo out of the box. By this time next year, we hope to see Android distribution for Android P much higher than a measly 12.1% nearly 11 months after the OS' official release.
Check out Android's distribution numbers from a year ago. | Check our Android's distribution
numbers from May 2018
.
Source:gsmarena.com