Samsung
has updated the Security Updates page on its website. While some 2016 models -including Galaxy J1 (2016), J3 (2016), A3 (2016) - have been removed altogether, what's surprising is the recently launched
Galaxy A8+ (2018)
is in the 'quarterly security updates' section.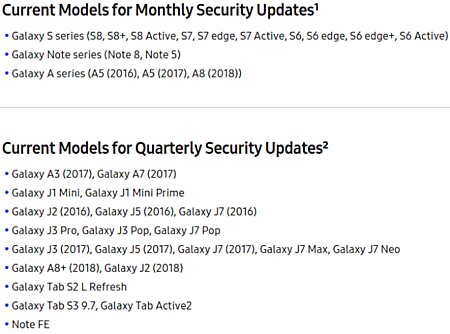 This means the device won't get monthly updates. The
Galaxy A8 (2018)
, on the other hand, sits in the 'monthly security updates' section. As for other changes, the Galaxy J2 (2018) and the Galaxy Tab Active 2 both have been added to the quarterly list.
The
Galaxy S9
/
S9+
flagships haven't yet made it to the list (monthly updates one, of course), but that should happen soon. GSMArena.