is rolling out a major new update, which is leaving some users confused and frustrated.
The company has made significant changes to the app, and
they don't appear to have gone down well with a large number of fans
, who are calling for them to be reversed.
However,
that's unlikely to happen anytime soon
, as the alterations are designed to help the company make money.
Snapchat is aware of the complaints, with a company spokesperson telling
The Independent
: "Updates as big as this one can take a little getting used to, but we hope the community will enjoy it once they settle in."
Here's how to use the new version of Snapchat.
Where to find Stories
You used to be able to access your friends' Stories by swiping left on the main camera screen. The update changes this.
Now, you have to swipe right on the camera screen, to the new Friends page.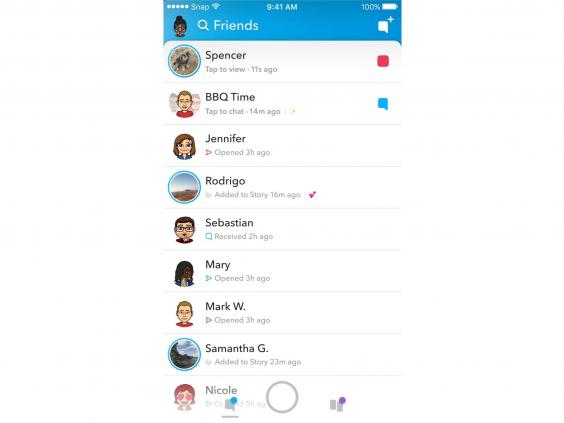 The Friends page
As well as Stories, the Friends page contains your friends' Snaps and messages, and group chats. All group chats automatically get their own Group Stories too.
The result is a bit of a mess, and Snapchat's decision to bunch all of these updates on one page appears to be the biggest source of confusion for users.
How to watch Stories
If one of your friends has posted a Story you haven't yet watched, you'll see a circular preview bubble to the left of their name. To watch the Story, tap the bubble.
After you watch a friend's Story, you'll see a preview of another friend's Story. You can tap the screen to watch it, swipe to skip it or swipe down to exit.
To re-watch a friend's Story after you've already seen it, you need to open their profile by tapping their bitmoji on the Friends screen.
How to find your friends
Stories are no longer ordered chronologically.
The Friends page instead ranks your friends "based on who you keep in touch with the most and who's contacted you most recently", Snapchat says.
That means the easiest way to find new Stories from anyone who doesn't qualify as a top friend could be to type their name into the search bar at the top of the Friends page.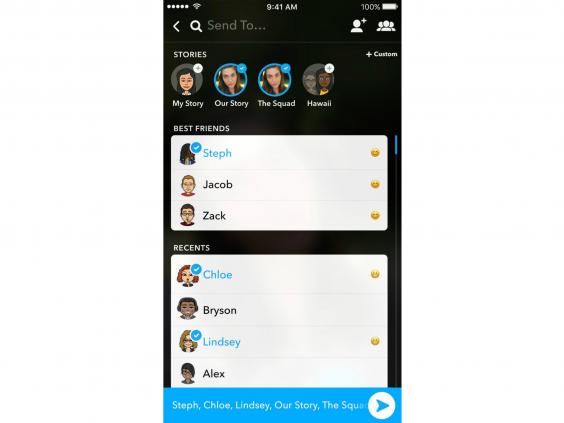 How to send Snaps
When you take a Snap and try to send it to someone, you'll find the new-look Send To page.
The eight people you interact with most on Snapchat sit front and centre of this, and right at the top are options to add a new Story to My Story, Our Story or Group Stories.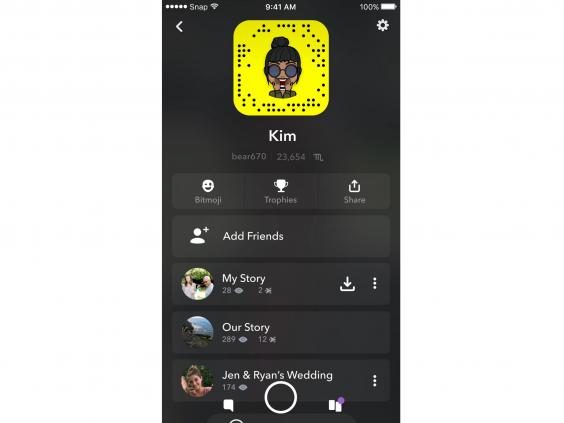 Managing your own Stories
You can post your own Stories by tapping the Snapchat logo in the top-left corner of the main camera screen.
This is also the place to see your Story views and delete Snaps from your Story.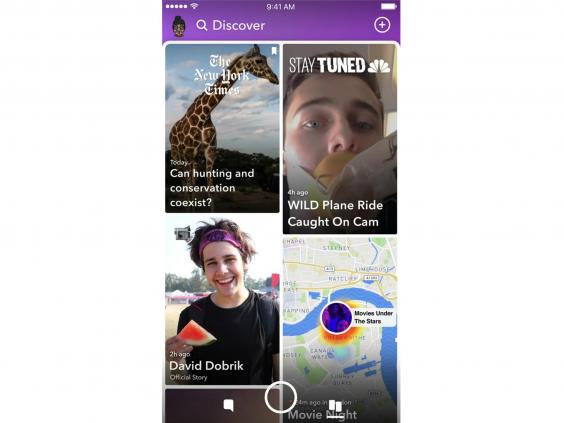 The Discover page
Swiping left on the camera screen, meanwhile, takes you to the Discover page.
Here's where you can access Shows, content from publishers, Stories from people you follow – but aren't friends with – and Snaps from creators, Snap Map and Our Story.
To see less of a certain type of content on Discover, you can tap and hold a tile and hit "See Less Like This" or "Unsubscribe".
The Independent's bitcoin group on Facebook is the best place to follow the latest discussions and developments in cryptocurrency. Join here for the latest on how people are making money – and how they're losing it.