Snapchat
has announced that it was partnering with Giphy to provide clippable GIFs to adorn the Snaps that users send to friends or post to public Stories. This happened not too long after
Snapchat
came under heavy criticism for its new confusing interface after a recent update.
Interestingly,
Instagram
was first one to offer insertable GIFs into Instragram Direct messages and Instagram Stories. What makes it even more interesting is that Giphy will provide these GIFs for Snaps, which is exactly the same provider for Instagram's Stories' GIFs.
This move just screams "me too". Snapchat didn't even try to do anything differently than Instagram's Giphy integration. It knows that it has a following and is trying to get frustrated users back onto the platform.
Aside from this, Snapchat had also promised that it would address the redesign and offer new Tabs to the "Friends and Discover" section of the app. This sounds like Snapchat is still adamant about keeping a new design, which is rolling out on iOS before making it to Android over the next couple of weeks.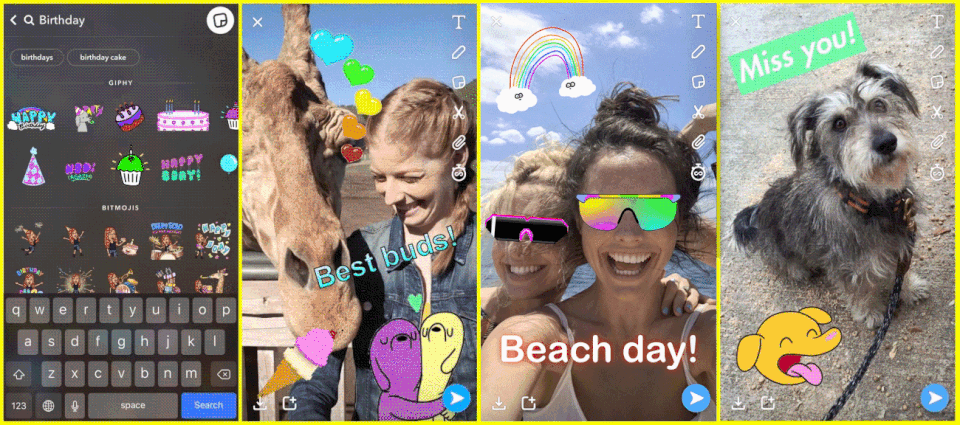 Snapchat has come under a lot of criticism for its recent Snapchat update where it merged individual Snap conversations together with the friend's individual stories, making it more confusing to find your friend's most recent conversation while making Snapchat's poorly curated content more visible.
The update was so bad that a
Change.org petition
was signed by 1.2 million Snapchat users to bring the old interface back. One of the Kardashians even expressed her disappointment with the platform's update.
Are you a Snapchat user? Would you rather Snap bring the old interface back or are you open to its promised improvement of the new update?