The much anticipated wait is over, the Samsung Galaxy S9 flagship has been released in the MWC 2018 event in Barcelona, Spain. It was released alongside the bigger variant, the Samsung Galaxy S9 Plus. The
smartphone
comes with an improved camera but with about the same features as the former
Samsung Galaxy S8
. It also has a similar look with its predecessor but with an increased AI presence for more features. Join me as we exhume the features on this smartphone one by one.
Samsung Galaxy S9 Key Specs and Features


5.8-inch, Super-AMOLED capacitive touchscreen, 1440 X 2960 pixels (570 ppi)


Octa-core Qualcomm MSM8998 Snapdragon 845 (USA & China), Octa-core Exynos 9810 (EMEA) with 4GB


64GB/128GB/256GB built-in storage and support memory card up to 200GB


12MP rear camera and 8MP front camera


4G LTE


Fingerprint sensor (rear)


Wireless charging


IP68 certification


3, 000mAh non removable Li-ion battery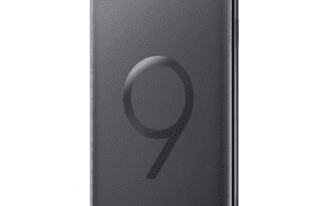 Design and Display
The Samsung Galaxy S9 looks very much like its predecessor maintaining the nice premium build as seen before.  It is also made up of a combination of metal and glass to give a smartphone that is both classy and stylish. However, it is a tad thicker and heavier too which makes it feel more premium when held knowing fully well you are holding a 9th generation Samsung Galaxy smartphone. Although the significant change here is the fingerprint sensor which was criticized for previouly being in an awkward position at the side of the camera, has been relocated to the side but is still part of the camera module which is in a unusual.
The top bezel also appears to be a bit slimmer than before with more conscious effort from Samsung to hide the sensors more. The smartphone maintains the 3.5mm audio jack some
premium flagships
has been leaving out lately which is a nice thing.
One of the great things about the Samsung Galaxy S8 flagship is its rich vibrant display which is the same except for being a bit smaller at 5.8-inch. There is still the 18.5:9 aspect ratio as before which allows you to have more screen space without being unnecessarily large. To conserve power, the screen runs on a full HD resolution by default which you might decide to change if you want to the maximum 2960 X 1440 pixels (570 PPI). Also, you've got that curved display with nothing in the way at the sides which is sort of a charmer if you look at it. The smartphone offers Corning Gorilla Glass 5 for protection against scratches and easy damage.
Battery and Camera
As much as we would have loved to see a larger battery capacity the Samsung Galaxy S9 only comes with a 3, 000mAh battery. This is sort of problem with its predecessor but the setup conserves power and the quick charge is still present using the USB Type-C connector.
There is more AI integration into the camera featured on the smartphone which is more of a thing in most high-end flagship trying to offer the next milestone capturing experience. Additionally, you have a new 12MP tear camera with the DRAM chip mounted on top. This deliver power directly to the camera, hence, a much quicker processing speed. Another great thing, is the dual aperture technology which switches between a f/1.5 and f/2.4.
This is dependent on the brightness of the environment, it utilizes a smaller aperture when there is much light to give a better picture and then to the bigger one when there's less light. Also one of the thing paraded at the MWC 2018 event, is the slow motion capturing up to 960fps at 720p. While this is cool, the problem is the timing to capture the really fast actions. The solution is the motion detector which automatically starts the recording once motion is detected.
Unlike the older model, the Samsung Galaxy S9 comes with a better selfie experience by help reducing noise in pictures taken. The smartphone recruits a 8MP sensor for a better wide angle selfies. Another highlight is the Bixby Vision which helps to translate live texts written in a foreign language to your native language. Samsung also stated the camera can help you estimate the amount of calories in your food although how it does this is still unclear.
Hardware and Software
Under the hood, there are two different options based on your region ofcos. While let's say in the USA, there are some carriers that might not work with a certain chipset. To avoid this, the Samsung is rolling out with two different SoCs. For users in USA and China you have an Octa-core Qualcomm MSM8998 Snapdragon 845 processor with an Adreno 630 GPU. For the EMEA region (Europe, Middle East and Africa) there's an Octa-core Exynos 9810 chipset with a Mali-G72 MP18 GPU.
In segue, the smartphone features a 4GB RAM which is enough for a smooth performance in my own opinion. You also have a 64GB internal storage space with variants of 128GB and 256GB respectively. The smartphone supports a memory card up to 200GB for more storage space. It runs on Android 8.0 Oreo with the Samsung Experience UI formerly referred to as TouchWiz.
Pricing and Availability
The smartphone has announced is available for pre-order but will not be rolling out until March 16 which is just a few weeks away for £739 which is about 373, 000 naira. This much cheaper than the
iPhone X
, Apple's flagship.