Whether for a home or work kitchen, you will find out that it is overwhelming to sift through the available microwave oven options in the market. True, all of them will heat up your food, but not all of them will give you the kind of quality that you deserve.
More than the basic function, you should always look for a microwave oven that promises you so much more. That brings us to the list of best microwave ovens to purchase in today's market.
Here are the five most useful and user-friendly microwave ovens you can find on the market today.
1 MasterChef Microwave Oven (11 Ltr)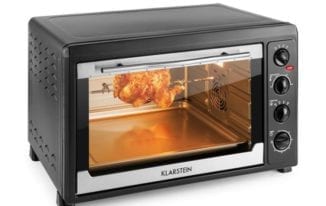 On closer observation of the name, one can tell that the MasterChef Microwave Oven (11 Ltr) would be able to hold a volume of 11 litres at any one time. What cannot be told from the name is the presence of a powerful heating element that is rated at 650W.
Featuring a multi-colour design, the 15-minute bell timer is there to ensure you never forget what you are doing in the kitchen. The deal is even bettered with the auto shutoff function to prevent overcooking and burning of food items.
There is a unique selling point for this unit that is presented in the availability of baking, toasting and grilling unit, all in the same setup. To cap it all off, the unit is accessorised with a crumb tray and baking pan.
2 AKAI Microwave Oven + Grill (20 Ltrs)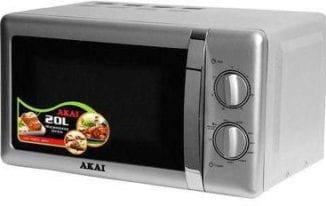 A larger house or business setup (in the catering or related niche) will benefit a lot from the 20-litre span available in the AKAI Microwave Oven + Grill (20 Ltrs).
The oven is able to handle combination cooking (grilling + microwave) processes at the same time. Having a total of 5 power control levels, the microwave is rated at a power of 700W. The grill is even ahead of that, taking on an 800W rating instead.
All that is complemented with a turntable that rotates while the food is being processed, ensuring a uniform distribution of heat. Optic wave technology leverages the latest engineering to make the heating process very efficient.
Asides the beautiful design on the outside, the inside of this unit is coated with anti-bacterial paint to further keep your consumables safe.
3 LG Microwave Oven MWO 6044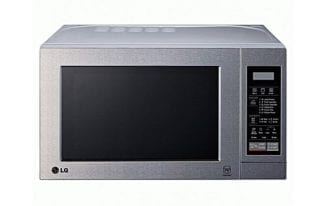 LG is not a new name for household appliance markets. In fact, they made that known with a strong statement on the LG Microwave Oven MWO 6044 which incorporates a Quick Defrost feature into its design. The unit is also fitted with a 700W microwave, 550W grill and flawless roasting capabilities (thanks to the two-stage cooking process).
The stylish, freestanding form factor makes it an ideal fit for most kitchens and the modern cook too.
4 Nexus Microwave Oven 20L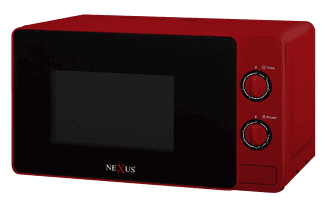 If you are tired of monochromatic microwave ovens, the Nexus Microwave Oven 20L has you covered. It would be needless to reiterate the holding capacity of this unit but it is worthy of note that the oven can pull up to 1000W of heat energy per time. That ensures very fast cooking and supports the claim of an Auto Defrost technology being in place.
As much power as this microwave oven can pull though, it still manages to come with a low voltage starter. Even if the power supply is not at a very high voltage, you would still be able to run your oven. Promised to be highly compatible with even small generators, 5 power levels will give you all the cooking flexibility you could ask for.
5 Linsan Microwave Oven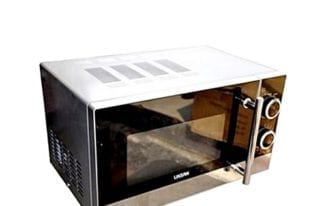 Another 20L capacity option, Linsan Microwave Oven has an impressive 6 different power levels for the desired cooking results. Depending on how long you think the food might take to get done, you are allowed to set a timer from anywhere between 0 – 30 minutes. In that time, the 700W microwave is sure to have gotten the job done, or be on its way there.
This unit is for the experienced cooks who would rely on manual operation rather than having a machine do the talking for them. Finished with an easy coating on the surface, maintenance of the oven is a joy on its own. Did we mention that it will also work well on small generator sets?
6 Midea Microwave Oven 20L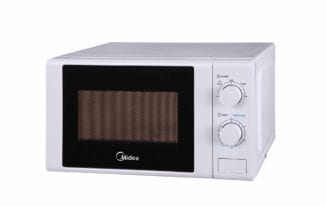 They might not be the most popular brand around, but Midea holds its own well with the offering of their 20L Microwave Oven. The first thing that catches one's attention of the unit is the white colour. It is more than aesthetics though, featuring a powerful 800W heater, a very impressive 11 different power level controls and a cooking and signal.
Another standout feature on this unit comes in the form of touch controls to further make it user-friendly for everyone. With energy consumption efficiency at a very good high, the only downside the unit has would be in the colour which could easily get tainted.
7 Sharp Microwave Oven (R-20CT-S)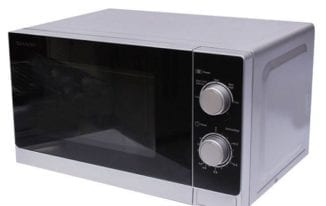 If what is in your mind was a basic, entry-level unit that did only the most basic things, the Sharp Microwave Oven (R-20CT-S) fits in just fine. With a power rating of 800 Watts, the oven is up there with some mid-range units in its heating capacity.
Aesthetically, the silver coating coupled with a black door design would catch anyone's fancy. Elements of the design include a 5-power level knob, timer function and an interior that can hold as much as 20 litres in volume.
After going through the list, you would agree that these represent some of the best microwave ovens to purchase. The needs of the caterer, home cook or whatever lifestyle a user might lead is satisfied by the options above. Coming with different customisations of power level options, colour, design and combinations, all that is left is for you to place your orders.