Aptly named "The Wall", Samsung's 146" TV is a marvel. It's the world's first modular
MicroLED TV
and while it's huge, it's really the technology behind it that has us more excited.
You may have
heard of
MicroLED as a potential future replacement of OLED (on phones and elsewhere). It is similar in that each pixel is its own light so it offers perfect black levels (and doesn't need a backlight like LCD, no color filters either). On top of that it will offer superior brightness, power efficiency and (more importantly) longer life than current OLED displays.
Samsung used micrometer-scale LEDs to build The Wall, much smaller than what is currently available. Those tiny points of light make up one huge TV, but it has a modular design so Samsung can quickly put together smaller TVs.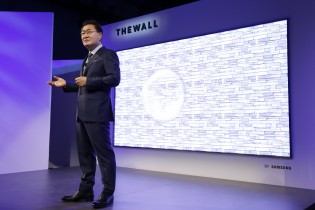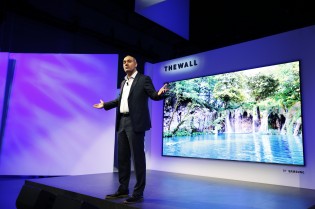 The Wall (Samsung execs for scale)
The company also previewed some of its 2018 models. Among them is a QLED TV with "8K AI technology" (smart image processing with noise reduction and sharpening). It will be available globally but will first come to Korea and the US in the second half of this year.
You can look forward to Bixby and SmartThings integration into the 2018 TVs as well. Another feature, the Universal Guide, will serve as a recommendation service for TV and other content.