DJI has launched a new drone which the company claims is its smallest and best drone yet. Called the DJI Mavic Air, the new drone is the size of a smartphone when it is folded up.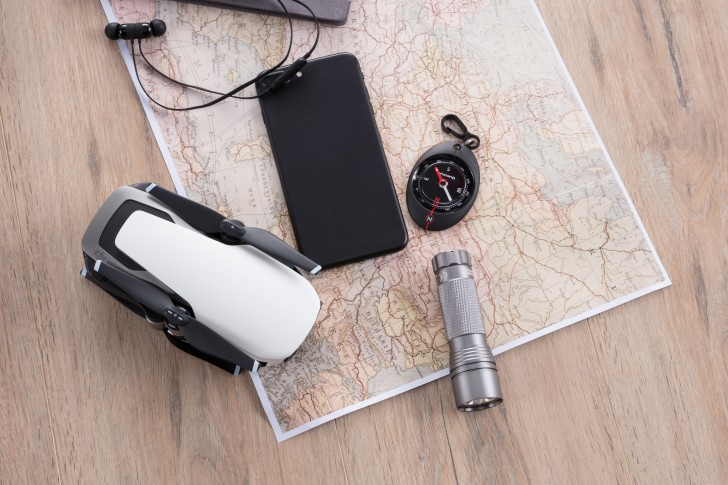 Apart from the size, which is very obviously the focus of this product, the Mavic Air also improves on two things, image quality and flight performance.
The Mavic Air has a 12MP 1/2.3-inch CMOS sensor with a 24mm equivalent f2.8 lens. The camera can capture 4K30 videos at up to 100Mbps, the highest quality for a DJI drone so far. Also available is a 120fps slow motion option at 1080p. The main camera is suspended by a 3-axis mechanical gimbal with dampers to reduce shake and vibrations.
New modes allow users to get creative with their shot. A Sphero panorama mode lets you capture and stitch 25 photos to create a 32MP panorama in one minute. The panorama can be horizontal, vertical or 180 degree image. There are six flight modes, two of which are new, that let the camera fly in a predefined path around the subject and capture creative footage on its own.
DJI has also improved flight performance to make it easier and safer to fly the drone, even for novices. The drone uses its seven onboard cameras and infrared sensors to create a 3D map of its surroundings for more precise hovering and better flight performance. Improved forward and backward dual camera vision lets the system sense obstacles as far as 20m away. An improved flight assistant system helps avoid obstacles automatically.
The Mavic Air also responds to gestures better. From up to 6m away, you can use hand gestures to launch, follow, photograph, record, push, pull and land. If you'd rather use the remote, the Mavic Air features detachable control sticks that can be stored inside the controller for additional portability, and has a range of 4km from the drone with 720p real time video transmission.
The Mavic Air has a battery life of 21 minutes. It can fly at speeds up to 68kmph and in 36kph winds at up to 5000m above sea level. It even has 8GB storage built-in alone with microSD support and USB-C connectivity.
The DJI Mavic Air will be available in three colors, Onyx Black, Arctic White and Flame Red and will be available starting January 28. It is priced at $799 with the standard kit that includes the drone, battery, remote controller, carrying case, two pairs of propeller guards and four pairs of propellers. The Fly More Combo includes two extra batteries, a travel bag instead of the case, six pairs of propellers, a battery to power bank adapter ad battery charging hub for $999. GSMArena.
https://youtu.be/uF-WXHwzURs