Samsung KU6000 is a mid-range Smart TV in the Samsung 6 Series, which also features the KU6400. The set is made to bring to your living space awesome true UHD viewing experience with features such as HDR, PurColour and UHD Dimming.
Samsung KU6000 4K TV Key Specs & Features


40-inch, 43-inch, 50-inch, 55-inch, 60-inch, 65-inch, 70-inch Panel


Flat LED Panel


3840 x 2160, 4K Ultra HD Screen


Smart TV with Tizen OS


Quad-Core Processor


Wi-Fi 802.11 ac


3 HDMI ports and 2 USB ports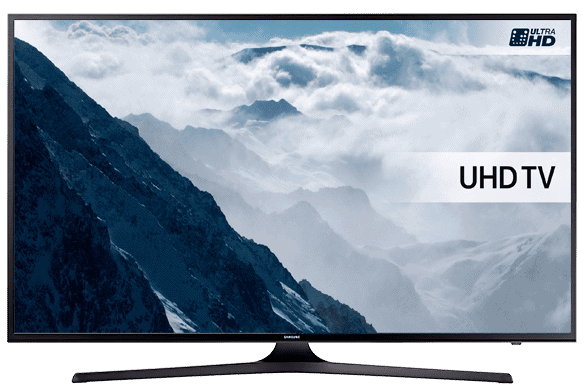 Samsung KU6000 4K TV is a member of Samsung 6 Series 2016 models and available in 40-inch, 43-inch, 50-inch, 55-inch, 60-inch, 65-inch, and 70-inch sizes with model Samsung 40KU6000, Samsung 43KU6000, Samsung 50KU6000 Samsung 55KU6000, Samsung 60KU6000, Samsung 65KU6000, and Samsung 70KU6000 respectively.
Design and Display
This one is a TV for people who desire a set that is perfect for wall mounting. The Samsung KU6000 shows off a flat design that should keep it relatively flush with the wall. Its bezels look slim, but not so slim for you to miss them.
The display boasts stunning 4K Ultra High Definition resolution that brings images to life, especially when you consider the supporting features. There is PurColour technology that helps to make colours look richer and more life-like.
This is further enhanced by the UHD Dimming feature which boosts colour accuracy and ensures better shadow detail. The Samsung KU6000 set supports HDR to enable you view content using latest UHD standard.
You have a wide range of options to choose from, in terms of size. The Samsung KU6000 4K TV set is available in 40-inch, 43-inch, 50-inch, 55-inch, 60-inch, 65-inch and 70-inch sizes.
Smart TV
The Samsung KU6000 comes with a redesigned Smart Hub that looks to take your Smart TV experience to the next level. In addition to watching your favourite live TV programmes, you can get stream high quality UHD content from sources such as Netflix and Amazon Instant Video.
The Samsung KU6000 set, which is powered by a quad-core processor, lets you play video games without a console. It has integrated wireless connectivity module and a full web browser. If you are interested in setting up a Smart home, this TV is compatible with Internet of Things.
Other Specs and Features
With a 2-Channel speaker system on offer, the Samsung KU6000 looks to deliver only manageable sound. The down-firing speakers deliver an output power of 20 watts. You can also mirror content from your mobile phone to the TV, and vice versa.
Three HDMI ports, two USB ports and an Ethernet port are some of the available connectivity options. The Samsung KU6000 TV supports HDD and USB 2.0 Connect Share.
Pricing & Availability
Samsung KU6000 4K LED TVs are not yet available in Nigeria, Kenya, or Ghana. When available, you can buy these TVs at reputable online stores, leading retail chains, as well as Samsung Electronics stores in Nigeria. Samsung KU6000 SUHD LED TVs price in Nigeria is expected at between 340,000 Naira and 950,000 Naira.