Whether it's bolstering your home security or feeding your pet dog, this is the clever tech you need in your house
Sometimes it can be too much work to get off the sofa, slob over to the wall switch and turn the lights down, can't it? In which case, smart home gadgets are for you. A smart thermostat means you can turn the heating on before you get home, smart speakers can play music when you talk to them and a smart camera can alert you when there's an intruder – or even feed your dog for you.
There are several main control systems: Google Home, Apple HomeKit and Amazon Echo. Other companies have their own systems, such as Panasonic and Samsung. They are not compatible with each other, so make sure your gadget of choice works with your system. Some work with more than one. The Google-owned Nest, for instance, does not work with Apple.
Google Home and Amazon Echo are hardware hubs, but Apple HomeKit means gadgets from Elgato, Philips, Honeywell, Netatmo and more are controlled using the Home app in the iPhone, iPad and Apple TV (until December, that is, when the just-announced Apple HomePod smart speaker goes on sale). There are a number of emerging brands, but for the time being, we think these are strongest products on the market.
1. Amazon Echo: £149.99, Amazon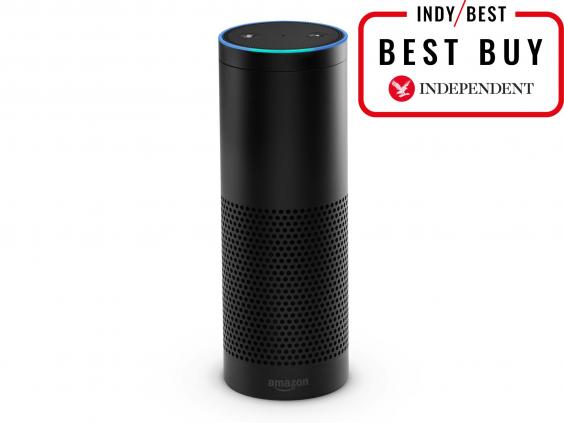 It looks like a tube of Pringles but this is a voice-controlled speaker with its own virtual assistant, called Alexa. Say, "Alexa, turn up the heating in the living room" and if you have the right thermostat such as Nest, British Gas Hive and a range from Honeywell, Alexa will oblige. She will also tell you a joke, confirm sports scores, convert pounds to kilograms and so on. The multi-directional speakers in the Echo can be used for playing music, too, though this is not hi-fi quality. Incidentally, if you have a person called Alexa in your household, you can change the "wake word" which gets the system listening to you. Available in black or white finish. You can also order an Uber, control the Neato Botvac and tell you your weight that morning on the Fitbit Aria bathroom scales. Alexa understands most of what you say, however there are some teething problems: invoking the Nest thermostat required careful diction for it not to think we were saying "next", for example.
Buy now
2. Nest Learning Thermostat: £279, Nest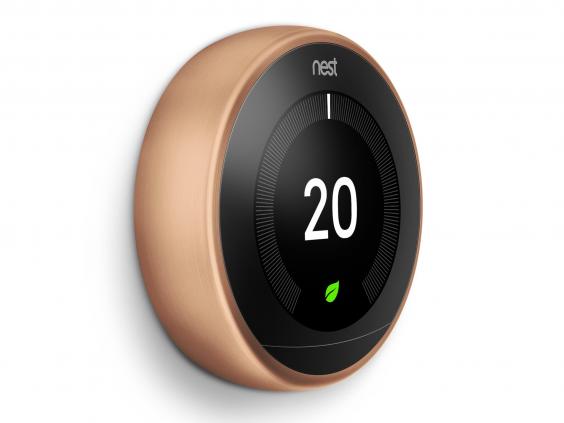 The handsome Nest comes in several anodised aluminium finishes and can be wall-mounted or placed on a portable stand (£29 extra). It talks wirelessly to your boiler and can control radiators and water heating. If the sensor realises you have left the house it switches to Away mode, to save energy, though you can also turn heating and water on or off remotely via your smartphone. The system gently encourages you to turn the heating down and emails you an energy summary each month. You can set a schedule, though for the first few days it notes when you turn the heating on and off and creates a suitable timetable automatically. Works with Google, Amazon. Installation by a Nest-approved agent is quick, simple and only adds £50 to the price. It doesn't work with every kind of heating but the website is pretty comprehensive and guides you through crucial details.
Buy now
3. Elgato Eve Degree: £59.95, Apple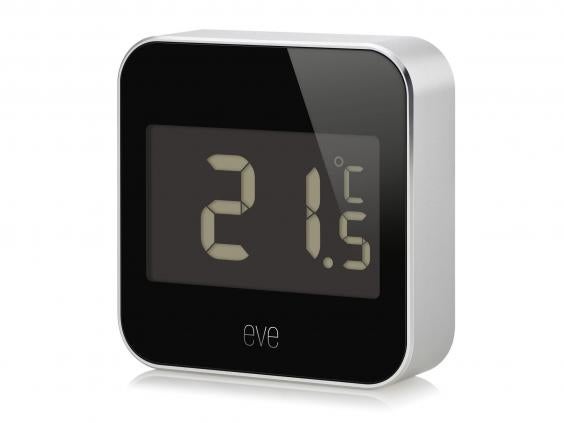 The new Eve Degree is an attractive, tiny weather sensor. It has an anodised aluminium case and is easy to set up: turn it on, download the Elgato Eve app and point your iPhone's camera (it's only compatible with HomeKit) at the code printed on the bottom. And you're done. The Degree has water-resistance so it can be placed outdoors or in. It measures humidity, temperature and atmospheric pressure. You can check the temperature and so on remotely by using the excellent Eve app or the Home app on Apple devices. Or just say, "Hey Siri, what's the temperature in the living room?" and your iPhone or Apple Watch can tell you. Works with HomeKit.
Buy now
4. Nest Cam IQ: £299, Nest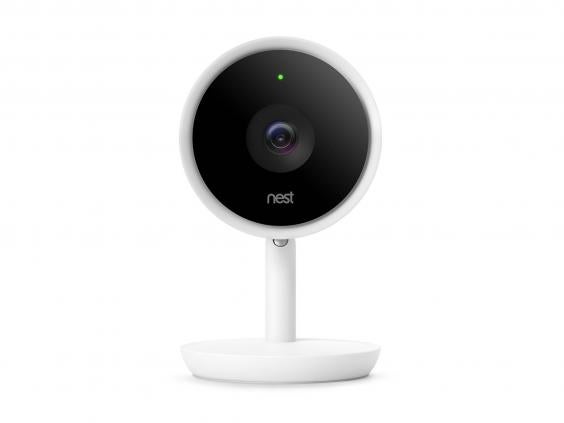 The IQ is Nest's latest security camera is very smart and advanced. It looks great, too. A high-quality lens and digital sensor means if it sees an intruder, say, it can alert you and stream footage at high enough resolution to make the evidence useful. Clever software also means the transmitted video can zoom in on a person and follow them round the room. It has face recognition smarts, too, available as part of Nest Aware which has an £80 a year subscription. It can see in the dark and a speaker and microphone mean you can communicate with home from your phone. Available for pre-order now for delivery within a few weeks. Works with Google, Amazon. Straightforward to set up and with a slick app.
Buy now
5. Philips Hue Ambiance Starter Kit: £139.99, Argos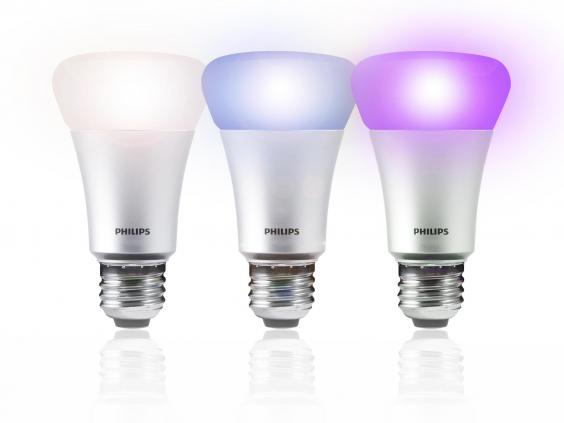 The Philips Hue range is tremendous. There are three bulbs in the starter kit which are controlled from a wireless bridge unit. The bulbs can be set to and of 16 million colours – just pick the shade you like best and you can set up automated timers. Or turn the lights on and off remotely. You can add other Hue lights such as candle bulbs and standalone lights. Choose from screw fit or bayonet fitting bulbs. It works with HomeKit, Google Home and Amazon and does equally well with each.
Buy now
6. Google Home: £129, Currys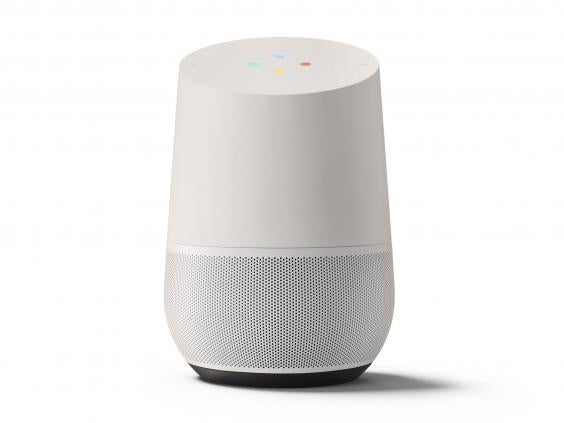 Google's smart speaker looks more striking than Amazon's Echo and does many of the same things as soon as you've caught its attention by saying "Okay, Google". If you've used Google's voice recognition on its phone app you'll know it's pretty accurate. It'll play music from services like Spotify, as the Echo does. It can also set alarms, timers, add items to a shopping list, tell you the time your commute will take today and so on. And of course it can set the temperature on your Nest thermostat, Belkin, Honeywell, Samsung SmartThings and so on. It works with your smartphone, Apple and Android, which is where you set up new accessories to work with it.
Buy now
7. Elgato Eve Energy: £44.95, Apple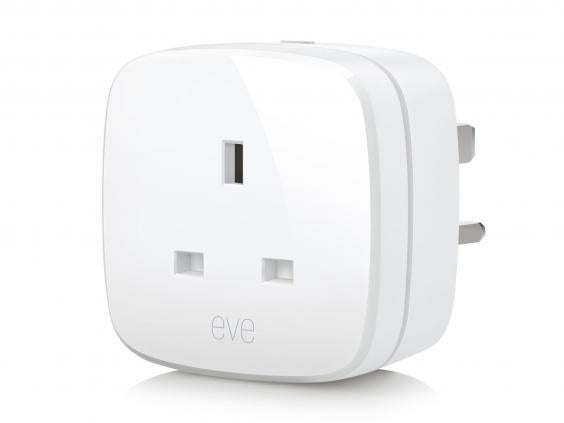 A smart power switch is one of the simplest ways to get into home automation. This HomeKit-enabled device plugs into your wall socket and then you can plug your light or fan or kettle or whatever into the switch. Like the Degree, it's easy to set up and it means you can turn the attached electrical device on and off remotely and monitors electrical consumption. Then it can calculate the cost of the switch's usage. Works with HomeKit.
Buy now
8. Furbo: £225, Amazon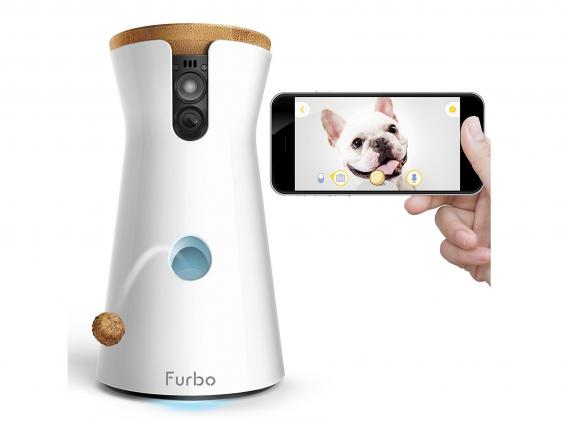 Ever wondered what Fido does during the day? Furbo is a smart dog camera which lets you see what your dog's up to, when they're in front of the lens. A microphone and speaker let you talk to the dog or get an alert when the dog's barking. And Furbo has one more trick up its sleeve: before you go out, fill the device with treats. Then, with a press of the screen in the smartphone app, Furbo will eject a treat for your dog to enjoy. Mind you, you shouldn't be leaving your dog on their own all day, you know that, right? It works through its dedicated smartphone app which is available on iOS and Android.
Buy now
9. Nest Protect: £99, Nest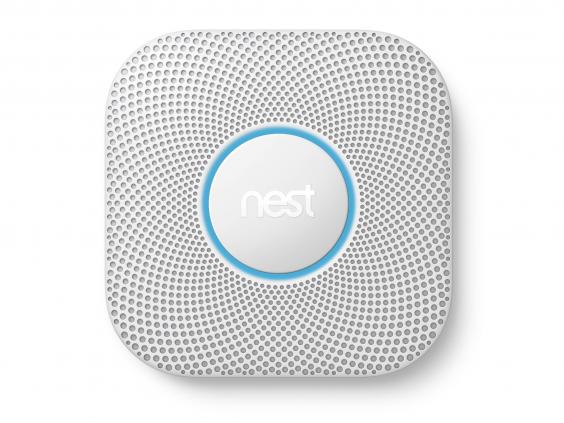 This is the most elegant smoke and carbon monoxide alarm you're likely to see. It's a smart sensor, too, as it can tell the difference between smoke and steam. And instead of the shrill and unpleasant noise most smoke alarms make, this one speaks a warning before the alarm proper goes off. It alerts your phone, too. It comes in two versions, wired and battery-powered. If you have the battery version, it alerts you when the battery needs replacing. If you have Nest Thermostat, the two can work together so if Protect detects an emergency, Thermostat turns off the heating. It even works as a night light when it senses you walk past it. Works with Amazon, Google.
Buy now
10. Amazon Echo Dot: £49.99, Amazon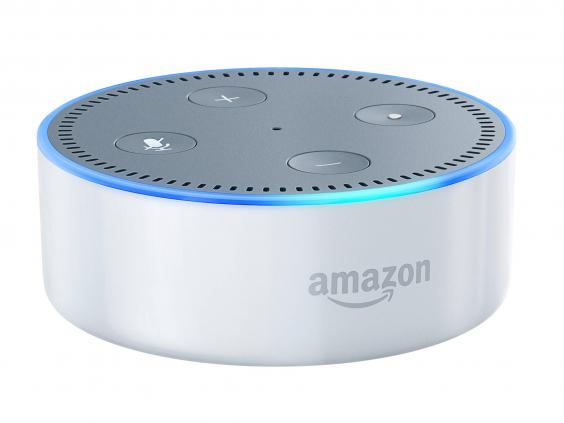 This is one of the big bargains of the smart home world. A small hockey puck of a gizmo, it listens as the bigger Echo does for your spoken command. It's not designed to be a music speaker like the Echo but instead you can connect it to hi-fi speakers so it can play music through those instead. Like the bigger Echo, you can ask it to read the news, today's schedule, set a timer while you're cooking or as an alarm in the bedroom. Audio is good enough to play the radio, for instance.
Buy now
11. Dyson 360 Eye: £799.99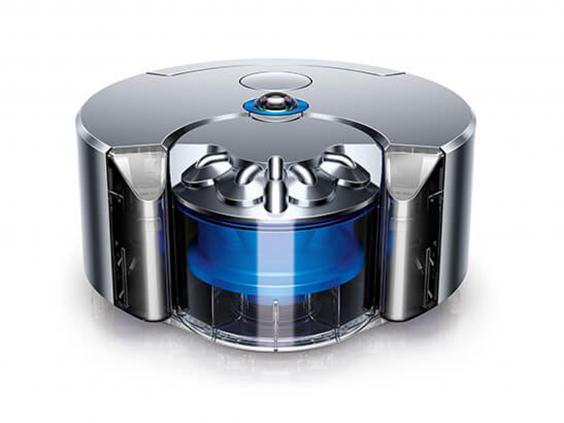 You know with Dyson you're going to get something impressive, and this small robot vac didn't disappoint. Although this one has the largest price tag, it's the smallest and most compact (roughly the size of a Quality Street tin), taking up minimal space in the cupboard or at its charging dock. It's simple to use – you leave it to charge and then press the (only) button to get it going. It works its way methodically around your home and if it gets stuck on rugs or shoes, it turns off, navigates its way back to safety and starts again. It maintains Dyson's high suction power, although still not as good as a standard vacuum cleaner, and certainly sucked up the most dirt out of all the robots tested. The app allows you to schedule when you want your robot to start cleaning and the instruction manual is clear to follow (unlike others we read).
Independent